Fine Bubble Tube Diffusers
SSI Aeration's Fine Bubble Tube Diffuser and advanced membrane materials offer outstanding resistance to chemicals and fouling, in addition to the high oxygen transfer efficiency (SOTE). Our product is different from other brands, because of our patented channel-pipe support. SSI Channel Pipe looks like this: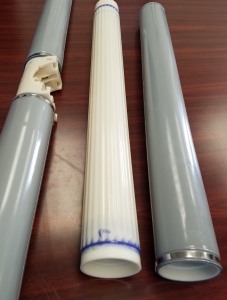 Most tube diffusers are built on round pipe. When the membrane is inflated, the inside of the membrane sticks to the pipe. SSI's channel pipe provides small air pathways all the way to the end of the diffuser. This creates a uniform bubble pattern across the whole length of the diffuser.
Another advantage of the channel pipe is that it is resistant to folding (flexure) tears along the perforation lines. The membrane fits snugly over the channeled support pipe, so it is nearly impossible to crease.
All of SSI's tube diffusers also have a step built into the support pipe plastic body, which prevents the membrane from sliding over time.
Quality makes SSI's Fine Bubble Tube Diffusers the best choice for retrievable grids
Industry standard size and shape, interchangeable with other systems
Connector options: standard nipple pipe connection or SSI's Snappy Saddle™ Mount which makes one-person installation easy
Variety of lengths, diameters, and membranes in 21st-century materials
Excellent fouling resistance and longevity thanks to high quality EPDM, PTFE-coated surface layers, silicone and polyurethane options.
Multiple integral check valves to keep your aeration piping system clean
Molded membranes with individual thermocouples in each cavity provide 100% quality control
Low membrane plasticizer content to reduce shrinkage and hardening, but enough to avoid creep
212F (100C) temperature resistance and environmentally friendly high-temperature ABS body
Fittings are available for mounting to metric or US pipe, and for tight spaces or for ease of installation
Personal design assistance is available, as well as free software on our Technology Portal.
Affordably priced for first use or retrofit
See this system under test below:
Other Applications for Tube Diffusers
SSI tube diffusers provide high capacity at an economical cost. Tube diffusers can offer a lower capital cost than disc diffusers, because there is less header piping and supports, and installation is faster. Aside from retrievable systems and aeration tanks, tube diffusers are also popular choices for equalization basins, aerobic digesters and post aeration systems, as well as flue-gas desulfurization projects (FGD). SSI tube membranes are available with 1mm or 2mm slits. In deep tanks, aggressive wastewater, and where capital cost (CAPEX) is more important than operating cost (OPEX), larger slits may be beneficial.
ECT Tube Diffusers
If you are in the market for tube diffusers, you may also want to check out SSI's ECT series. The ECT product belongs to our family of single-molded products, which means that the membrane is permanently attached to the diffuser body. The ECT unit is attached to a saddle that is mounted on a distributor pipe. The diffuser becomes a cartridge that you can replace, while leaving the saddle alone. Many operators prefer to replace a diffuser cartridge, rather than taking a diffuser apart and replacing diffuser components. The work goes faster, and there is less time spent in a confined space open to the elements. Click to learn about SSI's ECT series of tube diffusers.
Tube Diffuser Replacement Parts
If you are operating with old diffusers, you are probably losing a lot of money on wasted power. SSI manufactures replacement parts for many different brands and sizes of tube diffusers, including tube membranes. These include EPDM, PTFE, silicone and polyurethane. We can replace membranes and clamps, and sometimes even the entire diffuser, without changing the piping system. We offer long stainless nipples for square pipe, and saddle or grommet mounts for round pipe.
Installation Services
If you are in the market for new fine or coarse bubble aeration equipment, but you want to write a single purchase order, in many cases, SSI can provide installation services at your site for our tube diffusers. We have multiple crews that work for us throughout the country, who have experience with our equipment and are licensed and insured in your region. We work very quickly because installing diffusers is what our crews do every day. We go above and beyond, including working over holiday weekends, in order to get your aeration tank back up and running in the shortest time possible. We improvise on site when we are missing parts or we discover unknown problems, in order to avoid unnecessary delays and to reduce call backs.
MBBR Upgrade
Don't waste money on new concrete tanks, if you don't have to. SSI is a leader in the design and supply of right-sized fixed film reactors using fine bubble diffusers, such as SSI tube diffusers. We can take your old conventional activated sludge system and convert it to IFAS or MBBR, to provide extra capacity and/or higher levels of treatment. For a greenfield plant, you can save money and land by constructing a smaller biological reactor when you use media. Industrially, MBBR's are hard to beat, because they are easy to run (no sludge blanket to monitor in the clarifier since there is no return sludge). MBBR's are also resistant to shock loads, and are economical to build. Based in North Carolina, SSI's MBBR group is an excellent resource.
To learn more about the worldwide choice of Fine Bubble Tube Diffusers, fill out the form below, and one of our experts will contact you