ECD DIFFUSERS
The patent-pending ECD economy line of diffusers from SSI Aeration, Inc. provides an affordable price point for cost-conscious customers. SSI use a single-mold technique with EPDM membranes to create the ECD series. As a result, clients receive a cost-effective product suitable for a variety of applications. When a project lead needs to factor capital cost into their system design, the ECD series can meet many project requirements.
SSI offers ECD diffusers for sale in 7-inch, 9-inch, 12-inch, and 20-inch diameters that feature a 3/4 MNPT connection and compatibility with SSI's PVC grommet.
A SINGLE MOLD DESIGN
The SSI facility uses a single mold during production to save costs for customers. Each ECD unit has an integrated membrane created with SSI's standard EPDM membrane. By creating the ECD series with a single mold, SSI can save costs during production and pass those savings to the client. To provide the reliable performance associated with SSI products, ECD diffusers include an EPDM membrane.
EPDM MEMBRANE INJECTION
After producing the single-mold body, manufacturers inject an EPDM membrane with similar qualities to the membranes on other standard SSI products. The membranes on ECD series products have compression molding with individual thermocouples in each cavity. This process allows the manufacturer to have full control over each diffuser membrane's quality. SSI also ensures that each membrane's perforations have even depth for uniform air release. An ECD diffuser membrane has low plasticizer content to reduce hardening and shrinkage while avoiding creep.
SSI ECD SERIES SYSTEM STRENGTHS
SSI's team can assist in system design with:
Comprehensive product selection: In addition to the ECD disc diffusers, SSI develops additional lines of disc diffusers and coarse bubble diffusers. Thanks to this wide selection, clients can create a variety of system configurations.
Superior piping system integrity: SSI uses piping with a 38% thicker wall and twice as many rod support stands as standard. The team places anchors in the two areas where the piping needs the most structure to increase longevity.
SSI Aeration, Inc. provides full design services, including calculations, simulations and hydraulic studies.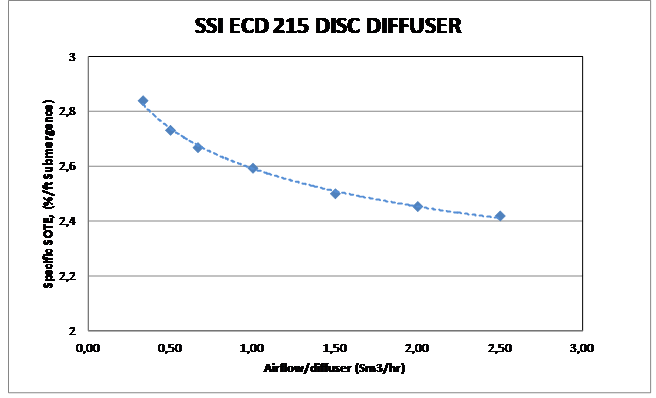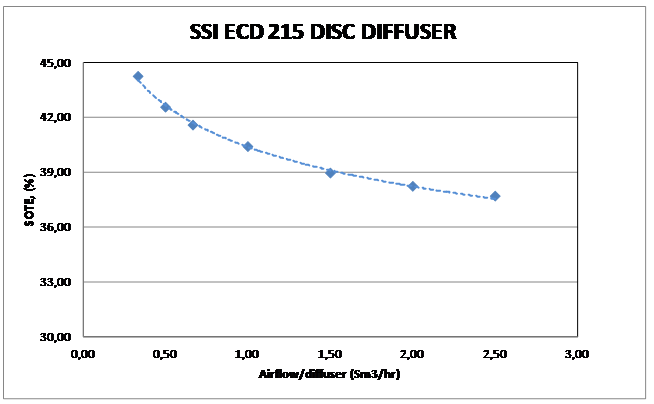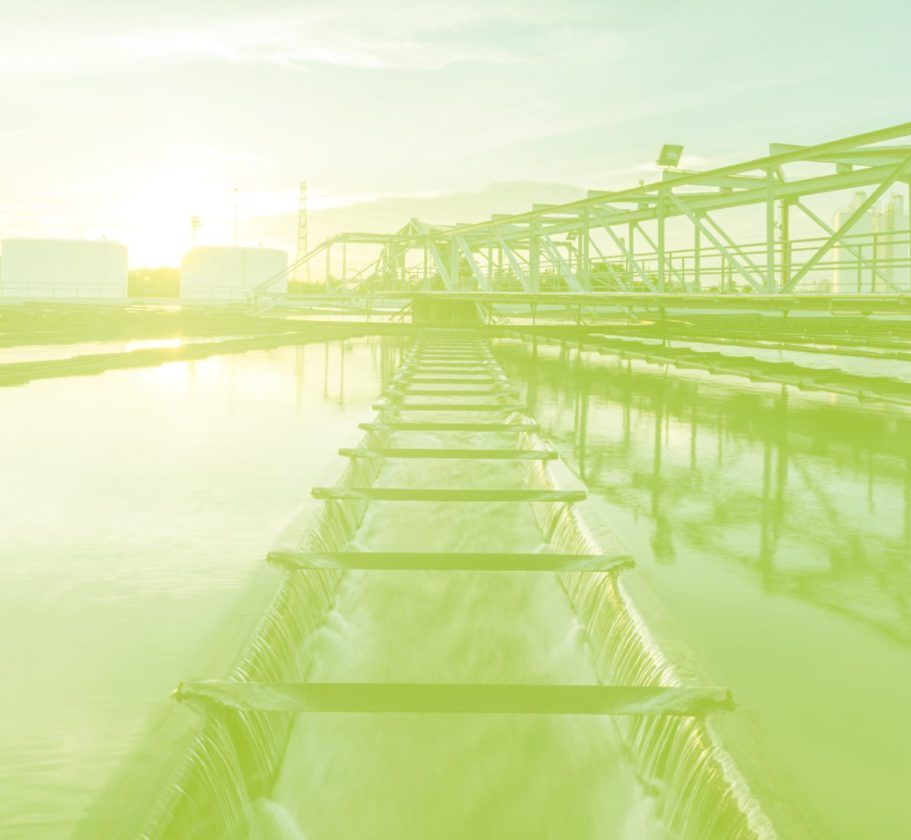 WHY CHOOSE SSI AS AN ECD AERATION DIFFUSER MANUFACTURER?
Customers who partner with SSI experience benefits such as:
Experts on demand: Allow the fully staffed engineering department to assist in developing a wastewater treatment system. They can consult on multiple design elements to ensure a well-functioning installation.
Unmatched customer service: Clients may contact the SSI team at any time for answers to product questions at any point in the purchasing process.
Worldwide operations: Stocking locations and staff members across the world provide service wherever SSI clients work. SSI keeps the ECD series in stock on three continents in four locations.
Cutting-edge engineering: Every diffuser from SSI has a design focused on reliability, efficiency and quality. SSI always works to develop this engineering further to serve customers better.
These advantages and more make SSI the worldwide choice across industries for wastewater treatment.
BUY ECD DIFFUSERS FROM SSI AERATION, INC.
For cost conscious customers SSI Aeration offers our economy line of diffusers. The ECD diffusers (Patent Pending) are composed of a single piece molded body integrated with SSI's standard EPDM membrane. The single mold body allows SSI to offer a lower price point per diffuser while still including our proven EPDM membranes. The single mold design does not allow for membrane replacement, however given its low initial cost the entire diffuser is easily replaceable.
Available in both 7″, 9″, 12″, and 20′ diameter the ECD diffuser series features a 3/4 MNPT connection and is compatible with our PVC Grommet.
Available in both 7″,9″, 12″, and 20″ diameter sizing
Single mold design allowing cost savings
Standard EPDM membrane injected into Diffuser
Popular in applications where capital cost is a deciding factor
To learn more about the worldwide choice of ECD Diffusers, fill out the form below, and one of our experts will get in touch. Clients may also request an online quote to begin the process to buy an ECD wastewater diffuser.