What to Do When the Power Goes Out at a Wastewater Treatment Plant
By: Tom Frankel
Post Date: February 2nd 2022

Post Tags: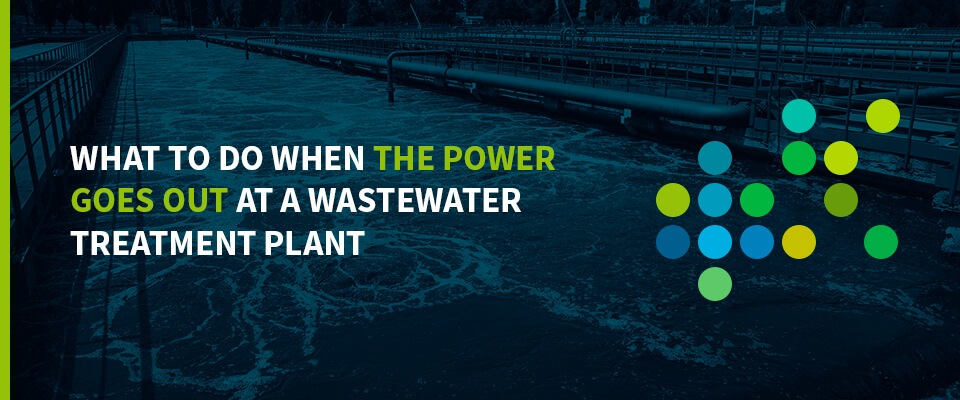 Operating a wastewater treatment plant, also referred to as a sewage treatment plant, is a highly important task. Whether you're treating wastewater for a small town or a highly populated city, your facility helps repurpose and provide clean water to individuals for secondary use. The community you serve depends on your facility and the hard work you put into your wastewater treatment plant daily.
It's crucial that your plant continues functioning properly, but what happens when an unexpected power outage prevents your wastewater filtration and purification system from operating?
Knowing what to do during a power outage is essential for keeping the community's water supply clean and safe. Read on to learn about a useful wastewater treatment plant power outage procedure and ways to handle hazards.
Table Of Contents
What Is a Wastewater Treatment Plant?
Wastewater treatment plants have the important job of filtering and cleaning wastewater from multiple sources. Wastewater can include numerous contaminants, like oils, soaps, food waste, human waste and chemicals that are mixed in because of human consumption. These substances are disposed of through sinks, toilets, bathtubs, washing machines and dishwashers. Larger companies dispose of the same substances through their waste channels. Wastewater also includes water from storm runoff drains.
Most of the water that companies and homes use has to be treated before it can be reused or released back into nature. While our environment can accommodate small amounts of pollutants, the amounts created by humans daily are too overwhelming for nature to withstand. Wastewater treatment plants are essential to ecosystems and communities across the country to continue using safe and clean water.
What Happens to On-Site Wastewater Treatment System Components During a Power Outage?
The most common disruption in a wastewater treatment system is losing electricity because of a power outage. When a wastewater plant loses power and its filtration or purification systems require electricity to operate, the systems will cease to run unless there is a backup generator or alternative energy source.
If your wastewater treatment system shuts down, the wastewater will continue building up until your facility regains the power to operate the system. Your water filtration and purification system may include some parts that will continue running even when the power is off, like:
Sand filters.
Flow equalizer tanks.
Subsurface drip distribution.
Aerobic treatment units.
Low-pressure distribution.
Re-circulating media filters.
Spray distribution.
Your treatment system likely has a reserve capacity that will enable these parts to continue processing. This feature can help you remain productive while the power is out and your team is working hard to maintain the plant until electricity returns. However, keep in mind that some components may sustain damage while the power is off, such as your diffusers.
When the airflow turns off due to a power outage and your system isn't sealed, sludge can build up in the piping. As these clogs form, they can travel underneath the rubber membranes on the system diffusers and stretch them out over time, eventually resulting in breakages. PTFE membranes help the rubber retain its plasticizer, which enables it to go back to its original strength and avoid breakage. In non-PTFE membranes, stretched rubber provides ineffective sealing, which can allow clogs to form.
It's a good idea to invest in system components like PTFE membranes that can withstand emergencies and decrease the risk of system damage. For example, PTFE membranes from SSI Aeration, Inc. have built-in check valves so that if the airflow turns off during a power outage, the valve will seal the membrane to prevent sludge buildup. We can also design systems with removable end caps.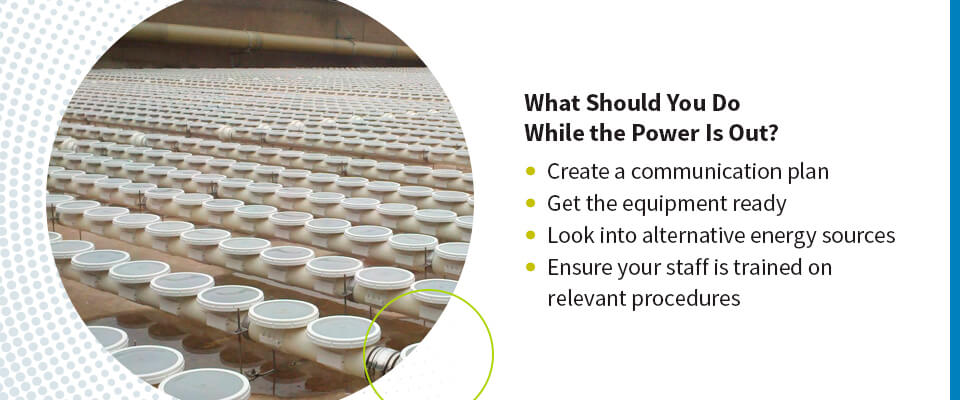 What Should You Do While the Power Is Out?
Power outages are a big concern for many wastewater or sewage treatment plants because they are unexpected. Losing power is out of your control, but knowing what to expect and creating a plan can help you be successful. Forming a strategy before major power outages can keep your facility productive and get clean water to the communities you serve.
Reduce the risks and hazards of an STP power outage by developing an effective plan. Your strategy may include the following processes:
Create a communication plan: One of the most important tasks your wastewater plant needs to complete is informing the public of the water quality due to the power outage. You and your clients can inform the public by releasing statements through news outlets, social media, emails and text messages. These messages may include water shut-offs or boil water notices.
Get the equipment ready: Understanding your equipment and ensuring your clients also understand their machines is essential to working on equipment during a power outage. Knowing what types of equipment can connect to backup generators and how to protect the machinery from water or other hazards can keep machines in working condition when the electricity returns.
Look into alternative energy sources: An important task to complete before a power outage occurs is investing in renewable energy sources for your facility. When an electric outage happens at a wastewater plant, renewable resources can help the water treatment system continue working while the electricity is out.
Ensure your staff is trained on relevant procedures: Having adequately trained staff and employees is key to successfully working through a power outage at a wastewater treatment plant. Go through the procedures regularly. When an outage occurs, everyone at your facility will be prepared to handle the machinery when the power is out.
What Should You Do Once Power Is Restored?
Once power resumes, ensure all machinery is working and turns on as intended. Let your wastewater treatment system run until you're positive it's functioning properly. It's a good idea to call on an electrician to ensure plugging electric components back into energy sources is safe. The technician can also inspect the facility's electrical workings to ensure there are no other dangers present.
Be sure to address any safety hazards in your facility resulting from a bad storm or other elements that have caused the power outage.
Sewage Treatment Plant Power Outage Hazards
One major concern during a power outage is its cause. Storms are common causes of power outages, and the inclement weather a storm brings can introduce numerous hazards to a wastewater treatment facility.
One significant risk to consider is flooding. Flooding in your facility can be hazardous for your staff and machinery during a power outage. If a flood occurs, do not turn on any equipment when the power resumes. Keep the electrical systems off until a service provider can inspect the area to ensure it's safe to resume electricity in the plant.
Check equipment and other aspects of your facility for signs of water damage. Remove any floodwater from the building before you begin working on machinery and resuming normal operations.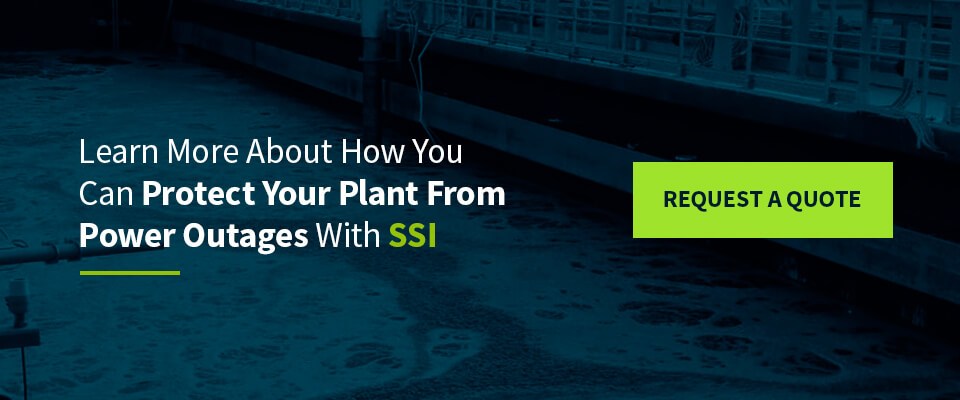 Learn More About How You Can Protect Your Plant From Power Outages With SSI
Protecting your wastewater treatment plant from a power outage is essential to resuming business as usual. Communities rely on this treated water, and having a detailed procedure for handling power outages should be a priority for your treatment plant.
If you want to boost your facility's preparedness and learn more about ways to create an effective power outage procedure, reach out to SSI Aeration, Inc. SSI's quality wastewater products and services can help improve operations at your wastewater treatment plant. Contact us today to learn how we can help you prepare for a power outage.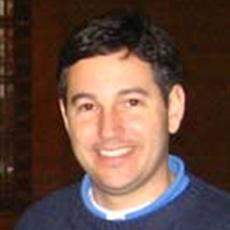 Mr. Frankel co-founded SSI in 1995 with experience in design and distribution of engineered systems. He is in charge of sales, marketing and operations in the company. Mr. Frankel holds multiple US patents related to diffusers. He is a graduate of Washington University in St. Louis.