Diffused Air vs. Mechanical Wastewater Aeration Systems
By: Tom Frankel
Post Date: September 9th 2019

Post Tags: industrial wastewater, wastewater treatment,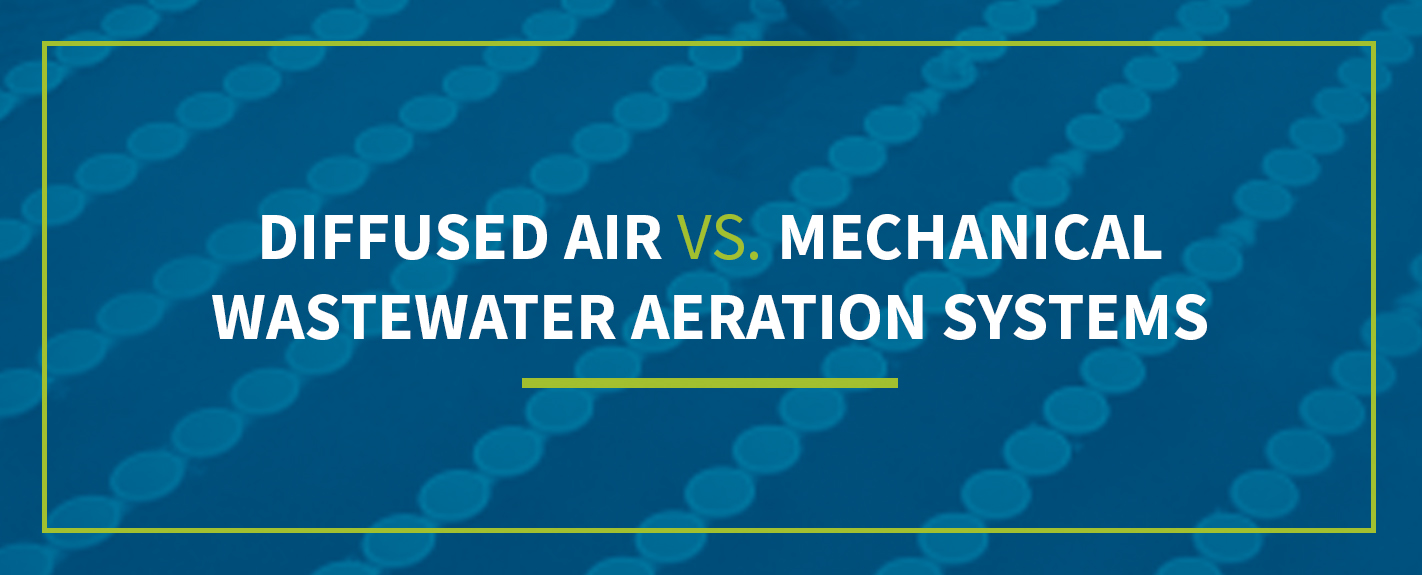 Table Of Contents
Have you ever wondered about the differences between types of aeration systems and what consequences they have for the operations of a wastewater treatment plant?
Two main types of aeration systems exist — mechanical aeration and diffused aeration. Mechanical aeration operates from the surface of a tank or lagoon, whereas diffused aeration typically operates from the bottom.
Older models of aeration systems are often mechanical systems that have served their plants reliably for years. The wastewater industry changes with new advancements, however, and more and more plants turn to diffused aeration.
How to Pick the Right Aeration System for Your Wastewater Treatment Plant
Different plants must prioritize different needs and goals throughout the wastewater treatment process. The choice of an industrial aeration system that is right for your wastewater treatment plant will depend on a few different factors:
Wastewater volume
Wastewater composition and oxygen requirements
Efficiency requirements
Tank or lagoon size
Plant location and climate
Maintenance reduction goals
Capital cost goals
Maintenance cost goals
Energy cost goals
Wastewater treatment plants can satisfy many of these needs at the same time with the choice of a high-quality, effective aeration system.
Diffused Wastewater Aeration Systems
Aeration forms a vital part of the wastewater treatment process, particularly the secondary treatment phase. It mixes wastewater with oxygen to allow aerobic bacteria to digest biosolid particles in the water. Aeration plays a particularly vital role in the activated sludge phase, during which bacteria feed on organic matter until flocs of matter and bacteria settle out and form sludge. The sludge recirculates, along with its bacteria, to enhance further breakdown of organic matter within the wastewater.
Diffused wastewater aeration systems provide a crucial tool for this process. They pump small, less concentrated amounts of air into the liquid to provide a highly efficient aeration process.
How Does a Diffused Aeration System Work?
A diffused aeration system typically operates vertically. It sends up concentrations of bubbles from near the floor of a wastewater facility's lagoon or tank. Typically, the system comprises onshore blowers, pipes and diffusers. Compressed air pumps through pipes and filters into the water through the diffusers, which create tiny bubbles. The bubbles displace and mix the water and create a spiral flow pattern, transferring oxygen into the water column as they rise to help bacteria do their work.
Usually, the diffusers cover as much of the floor as possible while allowing some space for technicians to walk and do maintenance. This full coverage allows for an even distribution of oxygen. Plants can determine the number of diffusers and blowers necessary by considering the volume and type of sewage and the dimensions of the treatment tank.
Diffused aeration systems come in two main types — fine bubble and coarse bubble. Fine bubble aerators provide enhanced aeration and efficiency, while coarse bubble aerators excel at mixing and increasing the level of dissolved oxygen. Each type of bubble aerator has specific airflow requirements, so plant operators must choose blowers and pipes accordingly.
Fine Bubble Diffusers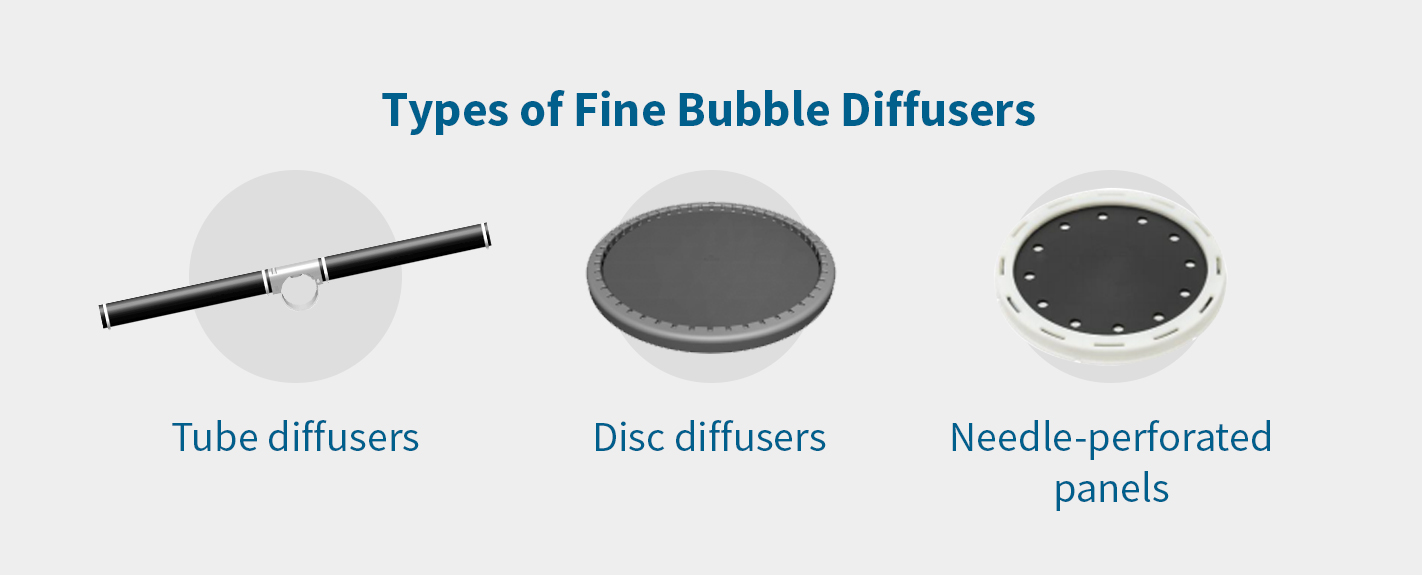 Fine bubble diffusers are made of flexible membranes that contain thousands of minuscule holes and produce bubbles from 1 to 3 mm in diameter. These diffusers come in three primary types:
Tube diffusers: These types of diffusers have more surface area to allow for the release of more bubbles per diffuser. They are longer and more neutrally buoyant than discs, and they provide the most air via the least amount of stainless steel tubing, so they are particularly well-suited to retrievable aeration systems that will lift out of a tank for cleaning.
Disc diffusers: These all-purpose diffusers are the most popular for fixed aeration systems that are attached to the tank floor. Fixed surface aerators require lower maintenance and typically last longer, making them the natural choice.
Needle-perforated panels: Unlike the membranes of tube and disc diffusers, the membranes of these diffusers usually do not flex. They contain fixed orifices whose bubble sizes remain constant with varied airflow. They also become much less efficient with deeper tanks and operate with high backpressure and headloss.
Fine bubble diffusers cannot operate with too much airflow, or the slits never quite close. They then produce coarse bubbles instead of fine bubbles. The tiny bubbles do not displace a large column of water, so these diffusers do not contribute extremely powerful mixing, but they provide enough mixing to keep typical biosolid particles in suspension when operated as intended.
The aggregate of small bubbles produced by fine bubble diffusers has a larger surface area than the fewer larger bubbles produced with coarse bubble systems, so they are prime for oxygen transfer and efficiency. The tiny bubbles also rise more slowly, leading to more contact time and higher oxygen transfer. They can generally operate with half the airflow of coarse bubble diffusers.
Coarse Bubble Diffusers
By contrast, coarse bubble diffusers displace more water with their larger bubbles and lend themselves to stronger mixing. They are also less susceptible to fouling than fine bubble diffusers because their larger pores do not clog as swiftly. Mixing and susceptibility to fouling are two important attributes in wastewater environments with high suspended solids content, so coarse bubble diffusers are superior to fine bubble diffusers in these situations and in other environments where other priorities take precedence over efficiency.
We outline the pros and cons of diffused aeration systems below.
Diffused Aeration Systems — Pros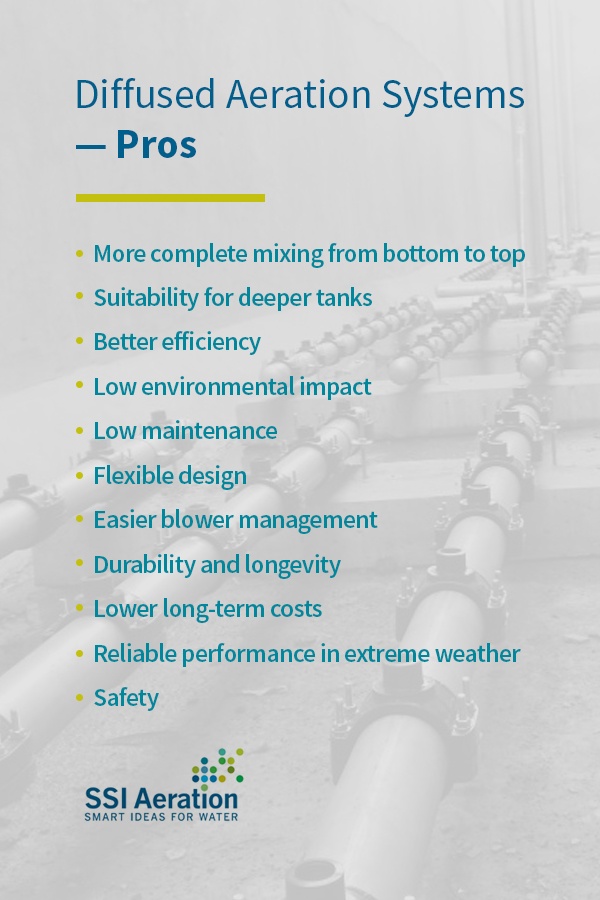 The advantages of diffused aerators include the following:
More complete mixing from bottom to top: Unlike surface aerators for wastewater management, which provide strong mixing primarily at the surface, diffused aerators provide complete mixing throughout the wastewater. Because the bubbles originate from the bottom and rise upward, they mix the whole tank. This allows tanks to avoid dead zones where unwanted sludge can form.
Suitability for deeper tanks: The air from surface aerators cannot always reach the bottom of a deep tank. Diffused aerators, which are mounted at the bottom of a tank, help avoid this problem.
Better Surface Aerator Oxygen Transfer Efficiency: Diffused aerators provide more air to the wastewater system per unit of power. Plants that switch to diffused aerators from other models typically see energy savings of 30 to 40%.
Low environmental impact: The high efficiency of diffused aeration system means they require much less power to run. This makes them an outstanding choice for plants looking to implement greener, more eco-friendly operation practices.
Low maintenance: Unlike mechanical diffusers, which are composed of churning, rotating mechanical surface shafts, diffused aerators have relatively fewer mechanical parts. This leads to easier, hassle-free maintenance. Plants just have to clean the diffusers periodically, check the air filters and monitor for parts that need to be replaced.
Flexible design: A wastewater treatment plant can customize the size of its diffused aeration system to match its tank or lagoon size. Simply add more diffusers to fill the space. The plant can space the diffusers equally for even oxygen distribution or create a staggered array, with more diffusers near the mouth of the tank, to enhance the system's efficiency.
Easier blower management: Because of their heightened efficiency, diffused aeration systems typically have fewer blowers to maintain. The blowers of a diffused aeration system are usually located onshore, rather than in the wastewater, so it's easier for plants to perform maintenance on them. Electric motors typically account for 90% of a plant's energy costs, so reducing the number of blowers also results in increased cost savings.
Durability and longevity: Whereas the many moving parts of a mechanical aerator will likely break down, requiring more frequent repairs and replacement, a quality diffused aeration system will last up to ten years or more.
Lower long-term costs: With their lower energy and maintenance demands, diffused aerators are cheaper to operate over the long term than mechanical aerators.
Reliable performance in extreme weather: The diffusers at the bottom of a wastewater tank will not become icy and slippery or fail during cold, harsh weather conditions.
Safety: With a diffused aeration system and its onshore motors, no electrical wires run through the wastewater. This leads to a safer working environment for plant operators and staff.
Diffused Aeration Systems — Cons
The drawbacks of diffused aerators include the following:
Greater complexity: Wastewater treatment plants must tailor their diffused aeration systems to the tank size and wastewater load. They must provide the correct amount of air and number of diffusers to meet system needs.
Higher capital cost: Because of their complicated design and installation, diffused aeration systems often cost more up front than mechanical aerators.
Greater susceptibility to fouling: Clogging sludge and chemical buildup can form more easily in diffusers' tiny pores than on a mechanical aerator's propeller blades.
Lower efficiency in very shallow tanks: For shallower tanks of a few inches, a mechanical aerator's churning power provides more oxygen transfer, mixing and aeration efficiency than bubble diffusers.
Less effectiveness in harsh environments: In harsh environments like chemical wastewater, the tiny diffuser pores struggle to maintain their efficiency.
No portability: Though plants can often relocate mechanical aerators to different tank locations by detaching them from their moorings and reattaching them elsewhere, diffuser systems are fixed in place.
Mechanical Wastewater Aeration Systems
Unlike diffused aeration systems, mechanical aeration systems use rapidly rotating shafts and propeller blades rather than flexible membranes and minuscule bubbles. They typically allow for stronger localized mixing and higher localized dissolved oxygen concentration but lack some of the benefits that diffused aeration provides.
How Does a Mechanical Aeration System Work?
A conventional mechanical aeration system operates horizontally. It consists of a pump and tubing or a motor that turns a propeller. The system scoops up water and pushes it out. This churning creates a current and provides mixing. As the water churns, it draws in and absorbs air. The equipment mixes this aerated water with the rest of the water in the tank or lagoon and constantly brings in more air to aerate and mix.
Most mechanical aeration systems are modular, with just one piece of equipment to install. Plants can install multiple systems in a tank for full coverage. These surface aeration systems typically require buoys to remain at the wastewater's surface.
The following are three common types of mechanical aeration systems:
Horizontal aspirators: These systems contain propellers that turn more or less horizontally. They push air down the vertical shaft and into the tank.
Vertical aerators: These systems contain propellers that turn vertically to drive water into the air.
Jet aerators: These systems function as a combination of both horizontal and vertical types, with injected air for further aeration.
We outline the pros and cons of mechanical aeration below.
Mechanical Aeration Systems — Pros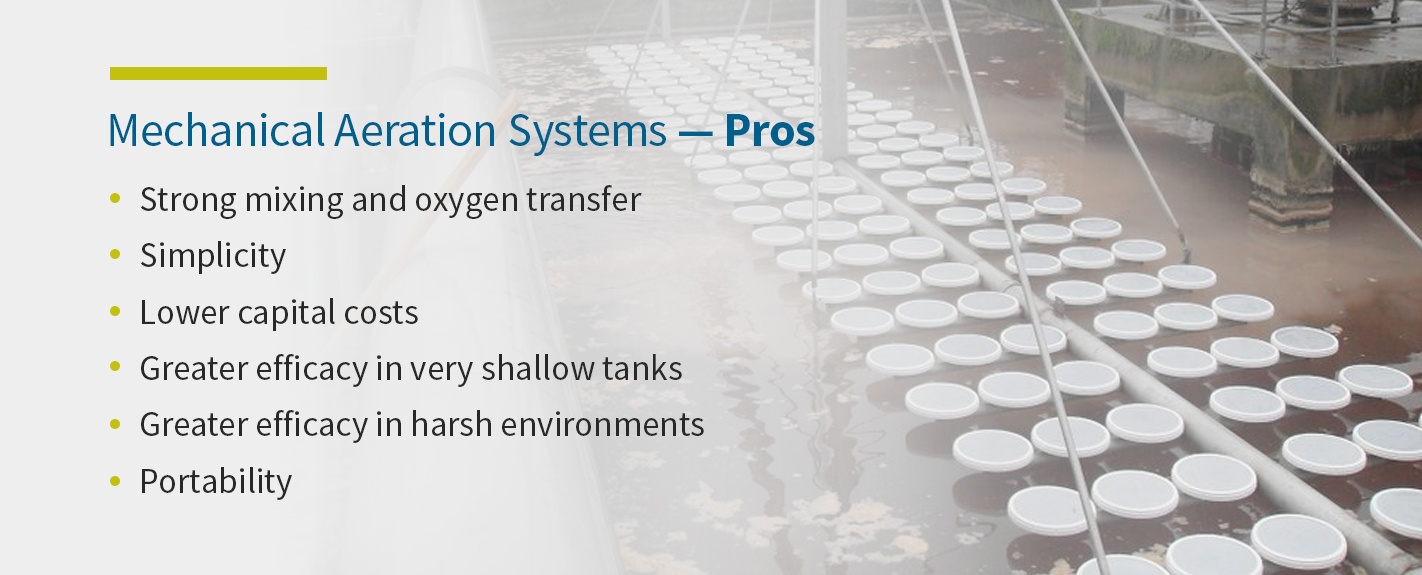 Strong mixing and oxygen transfer: The strong churning motions of the propeller blades effectively mix the wastewater to transfer oxygen for aeration and keep wastewater biosolids in suspension.
Simplicity: The equipment is simple for wastewater treatment plants to install, use and move.
Lower capital costs: Because there is nothing complex to design or install, mechanical aeration systems often come with lower initial price tags than diffused aeration systems.
Greater efficacy in very shallow tanks: For tanks of a few inches, the localized mixing of a mechanical aeration system proves extremely effective.
Greater efficacy in harsh environments: Unlike diffused aeration systems, mechanical aeration systems are composed of metal, often corrosion-resistant metal. Their durable metal construction makes them ideal for harsh environments like chemical wastewater.
Portability: Because mechanical aerators float, plants can move them to different places in the tank by detaching them from their moorings and reattaching them elsewhere.
Mechanical Aeration Systems — Cons
Localized mixing and oxygen transfer: These processes work effectively at the surface but less so throughout the depths of the tank. Unwanted sludge can form in the dead zones where no mixing occurs.
Lower aeration efficiency: Because they create less surface area for oxygen transfer and distribute oxygen unevenly throughout the tank, mechanical aeration systems provide less efficient aeration than diffused aeration systems.
More difficult blower management: Because they are less efficient, mechanical aerators require more blowers. More blowers mean increased maintenance work. The blowers are also located in the water, which makes maintenance more difficult.
Environmental impact: The less efficient processes of mechanical aeration lead to higher energy demands.
More maintenance requirements: Mechanical aeration systems have more mechanical equipment to maintain than diffused aeration systems.
Higher operational costs: Because mechanical aerators require more repairs and replacement, they are more expensive to operate over the long term.
Poor harsh-weather performance: Surface aerators can become icy in cold temperatures, and in extreme weather motors can stop working.
Unpleasant odors: The surface aerosol formation caused by mechanical surface aerators leads to unpleasant smells at the surface of the tank.
Less efficacy for very deep tanks: The mixing provided by the strong surface aeration tapers off very quickly away from the source. For large tanks, mechanical surface aerators often provide limited reach, and unwanted sludge forms in the dead zones where no mixing occurs.
Less safety: Electrical wires in the wastewater lead to a more dangerous environment for maintenance crews.
Why Diffused Air Is the Best Aeration System
For lower system costs, durable, state-of-the-art equipment and a decreased burden of repairs and replacement for wastewater treatment plants and maintenance crews, diffused aeration systems are far and away the superior choice. They increase oxygen transfer and aeration efficiency, provide uniform mixing, and keep oxygen levels high so that helpful aerobic bacteria thrive and work effectively.
If your plant wishes to renovate its existing aeration and change to an efficient, high-tech, low-cost and easy-to-manage system, moving to diffused aeration would provide all those benefits and more.
Contact SSI Aeration About Diffused Aeration Systems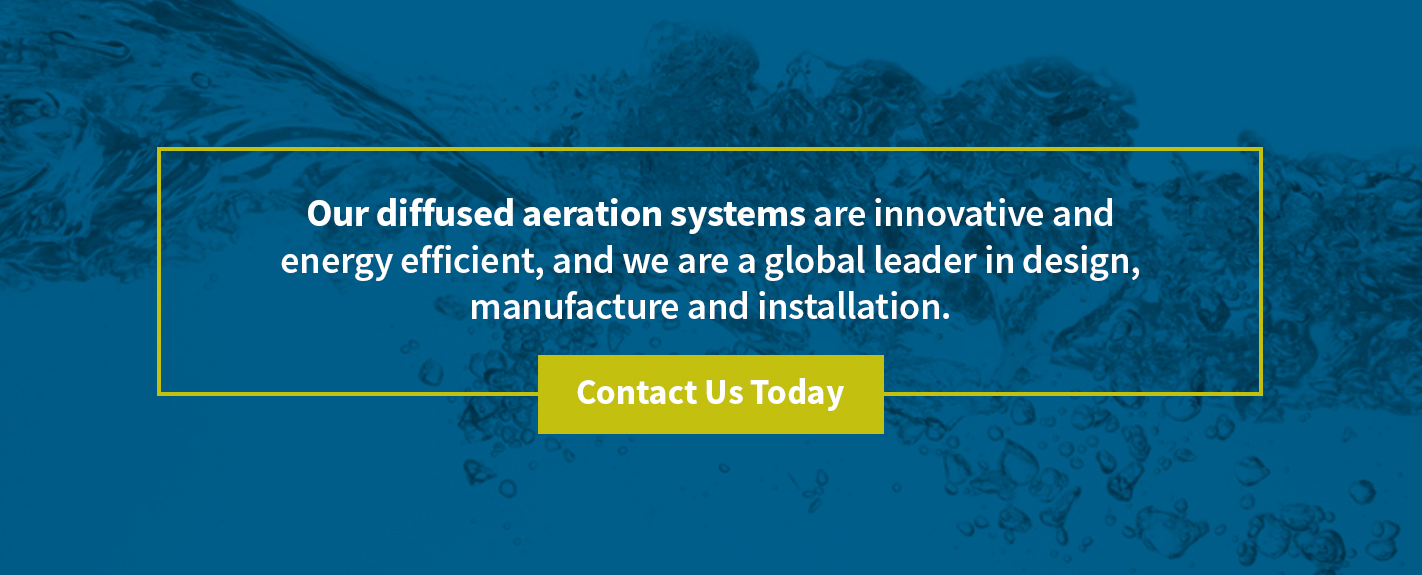 SSI Aeration is here for all your diffused air needs. We offer fine bubble diffusers, coarse bubble diffusers, disc and tube diffusers, a variety of premium, patented protective coatings, retrievable diffuser systems and a range of options to mesh with diverse budgetary requirements. Our diffused aeration systems are innovative and energy efficient, and we are a global leader in design, manufacture and installation. Contact us today.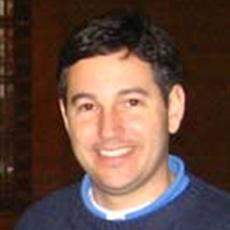 Mr. Frankel co-founded SSI in 1995 with experience in design and distribution of engineered systems. He is in charge of sales, marketing and operations in the company. Mr. Frankel holds multiple US patents related to diffusers. He is a graduate of Washington University in St. Louis.