SSI Grommets
By: Tom Frankel
Post Date: December 14th 2016

Post Tags:

SSI's grommet is an economical and reliable product used to connect disc diffusers and coarse bubble diffusers like the SSI Relia-Ball® to header pipe.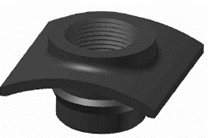 Material: Soft PVC (standard), Soft PU (similar performance to PVC, where PVC is not permitted), or PP + EP (high temperature)
Installs on a 1-1/4" (32 mm) chamfered drilled hole.
Installation of PVC grommet is recommended on plastic piping only.
GR4 and GR6 models are available for different pipe dimensions as follows: