SSI Mentioned in Ft. Worth Village Creek WWTP Article
In 2010, Johnson Controls awarded SSI a large municipal aeration project for the City of Ft. Worth, Texas at the Village Creek WWTP (166 MGD/625,000 m3/day).  The SSI system included new floor piping, supports and 75,000 pcs of 9″ PTFE coated fine bubble diffusers, and it is the largest SSI fine bubble aeration system in Texas.
This article provides details about the entire scope of the project, which was awarded by Village Creek to Johnson Controls.  It included the fine bubble aeration system, plus automation, heat recovery equipment, new SCADA systems, and some other items.  The target was to save $41 million in operating costs over 13 years.  The plant is ahead of schedule with payback on the investment today.
SSI is mentioned in the article.  The plant told us that the performance of the SSI fine bubble aeration system was so good, that they no longer needed to add a side stream treatment project, for which they had already made provisions.
Finally, we are grateful to plant superintendent Jerry Pressley, as well as Peter Cavagnaro of Johnson Controls, Al Bush, formerly of AECOM, and Michael Bailey and Jay Martin of former SSI Texas rep HRM for their confidence and cooperation.  This is a marquis project for SSI.   Al Bush said this about SSI, after the project:    "I have no objection to you mentioning my name to (redacted), or the Ft Worth project. I would have to give SSI high marks for that job."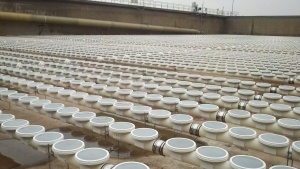 Ft Worth Aeration Tank – Before Operation