Containerized MBBR Systems from SSI
By: Doreen Tresca
Post Date: March 24th 2020

Post Tags: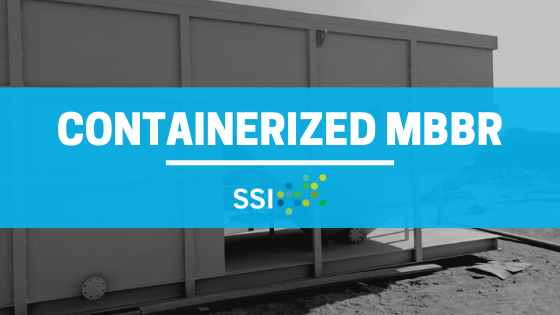 SSI now has inhouse MBBR manufacturing, providing in-house process support through commissioning of STPS and ETPs. SSIs Packaged Plants utilize optimized SSI MBBR technology with SSI PTFE Aeration. The combination provides high efficiency treatment with low volatile effluent. SSI can customize the plant to fit your specific needs. Typical effluent values of 20/20 BOD/TSS are easily achieve in single, compact containerized solution. Due to low operating cost and low operator involvement, the SSI MBBR system is often a preferred replacement of extended aeration, SBR or MBR plants. Depending flow rate desired, the SSI packaged plant may incorporate all necessary STP/ETP steps, or may be provided as a standalone biological system.
Benefits:
Compact, robust treatment
Easily expandable
High volumetric efficiency with MBBR + PTFE aeration
Low solids discharge due to unique SSI approach
Suitable for irrigation with addition of compact drum filter and UV disinfection
Packages can treat up to 1,000 cmd based on various configurations
Customizable tank sizes (vertical or horizontal configurations)
Tank sizes ranging from 6m to 20m in length